Vanity URL is a great way to promote your company's branding. And you create an easily accessible link for any of the marketing activities you use. Furthermore, it creates more engaging content with memorable domains that people will always remember. Read more to know what is vanity URL, how it works, its benefits, and how to to create one.
What is a Vanity URL?
Vanity URL is a short and memorable link. Usually, short links allow for more characters in one link than any other type of address. Because they only require 6-8 characters while regular addresses can take up as many as 20 or 30 letters per word. This leaves plenty of room for creative combinations. This will help to make an impact on anyone who visits it on their computer screen or mobile device.
As an example, the Amazon URL of Godiva Chocolatier, Signature Truffles Assorted Chocolate Gift Box:
https://www.amazon.com/Godiva-Chocolatier-Signature-Truffles-Chocolate/dp/B08NRNTCDX/ref=sr_1_2?dchild=1&keywords=chocolate&qid=1622874427&sr=8-2
You can change to:
https://rgkit.co/delicious-chocolate
You can use vanity URL as a branded short link for social media, emails and other offline marketing activities. For instance, if you have an online store for pet supplies as your business. But you want to promote it on Facebook or Twitter then adding the link "https://www.facebook.com/petsupplies". This would help to increase awareness of this product line while also providing customers with quick access via just one click!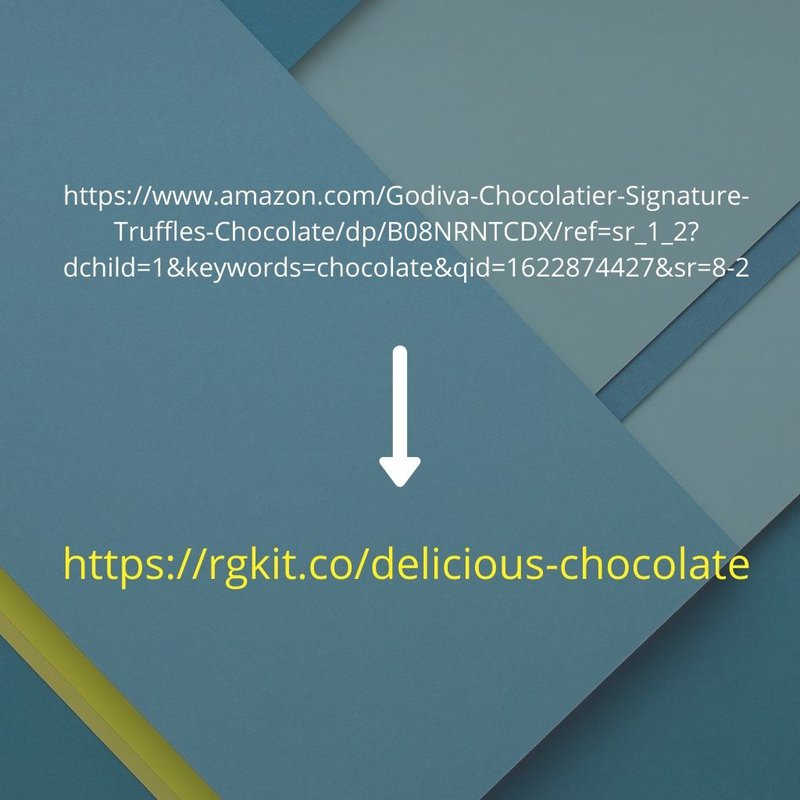 Benefits of Using Vanity URL
Brand Awareness Increment
Brand awareness may seem like an obscure topic, but it is a crucial part of any business. That's why you want to make sure that your brand name has the best possible chance at being seen by readers while sharing content from other sites on social media or elsewhere online. One great way to do this is using branded short links instead of generic ones with long unbranded URLs. This will give brands more visibility and encourage stronger ties between customer and company than what might otherwise happen if people use less identifiable options for their own posts.
Link Management
With a branded domain, you have total control over your short links. You can create and edit them to suit the needs of your business or organization – deleting old ones, changing their destination URL (and description) as required!
SEO Optimized
Depending on your link organization will decide the best way to rank higher in search engine. One easy fix that can have a big impact is including keywords within your URL slug. Moreover, The right keyword choice will make it easier for potential customers and clients alike to find what they need on their own (whether or not other SEO work has been done elsewhere on the page).
Link Retargeting and UTM Tools
You can use retargeting and UTM tools to increase the number of people that click on your links. You add these individuals to a list that you are able to track when they visit other sites or pages. Even though the sites are not one owned by you. Moreover, while creating branded short links such as Bitly for example; there is an opportunity built-in where parameters like "utm_source" may be added before sending someone offsite. We will know what channel led them back any time this link gets clicked on again from another site!
Easy to remember
With a vanity URL, you are able to give your links a more personalized feel while still retaining their usefulness. Your messages will be easier for people to read and remember because they have been given an easy-to-remember link that spells out the message in real words.
How Vanity URL Works for SEO
You can customize the vanity URL of a website's address for each company. It serves as an identifier and helps people find your site when it comes up in search engine results pages (SERPs).
A domain name should not only represent who you are but also what you do or sell. If someone types the URL into their browser they will know immediately from looking at the web page title where to go if interested.
Insert Keyword: To rank on Google's top pages, you need to follow the keyword rules. This means you also need to include the keyword in the slug. This will help anyone to find your link on Google as they type the keyword.
Keyword Association: Keyword association is the process of using your keyword alongside your company name to help bots identify that you are an expert in a particular field. This means that when someone searches for what type of social media strategy they should use and sees one from Company X who specializes in data analysis software as well as analytics-based marketing tactics, it will show up higher on their search results because the two keywords -social media strategy and data analysis- are associated with each other through this technique.
TLD: A clever domain is the best way to get your brand, product, or service recognized on the web. A TLD that relates specifically with what you provide can really make an impact online and attract potential customers who are looking for something specific in their search engine results pages (SERPs). For example, for a music club "music.club/hit-songs" would be my perfect vanity URL because when someone searches Google using this expression. It will direct them straight to an online music store filled with hit songs.
How To Create A Vanity URL
There are many URL shorteners available to help you create a vanity URL easily and quickly. Here are the steps to show you how to create a vanity URL with RetargetKit.
RetargetKit is a world-renowned retargeting tool that offers you the most demanding marketing features like Lead Generation, Link Shortener, Curated Page, Call To Action, Bio-Link, and so on.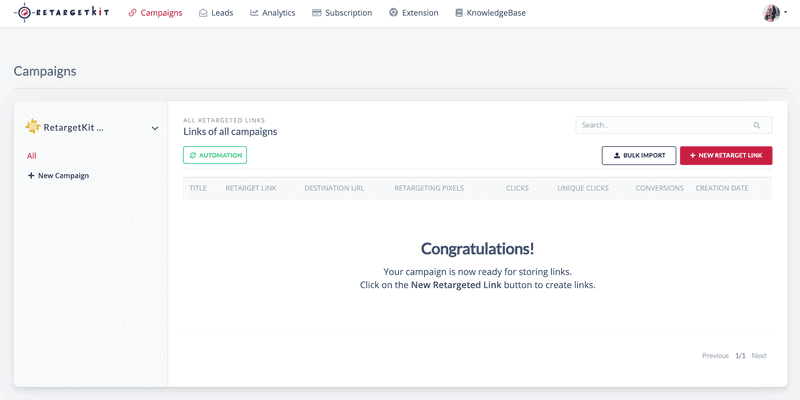 Step 1: Create Free Account
Create your RetargetKit account and sign up. You will be redirected to the campaign page.
Step 2: Create Your Shortener Campaign
By default Your campaign type is selected 'shortener' . All you need to do is name your campaign and click on the Save button. Your shortener campaign is created.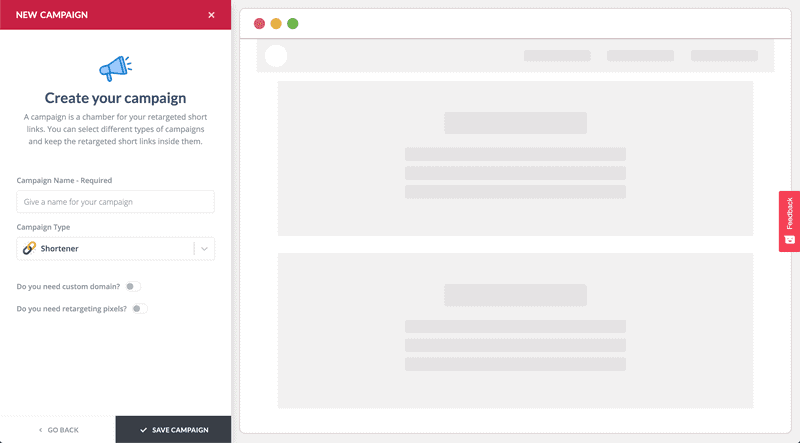 Step 3: Create Short Link
Now under the campaign, generate a new link. Click the 'NEW RETARGET LINK' button to create the short link. Use the URL of the page you want to show your audience as the destination URL. This link is customizable. You can use your own domain or keep it as it is (We prefer you use your own domain for brand awareness). Save the new link.
Now share the link with your audience. You can share via blog post, email marketing, Facebook posting, and other social media platforms, anyone who clicks the link will be tracked.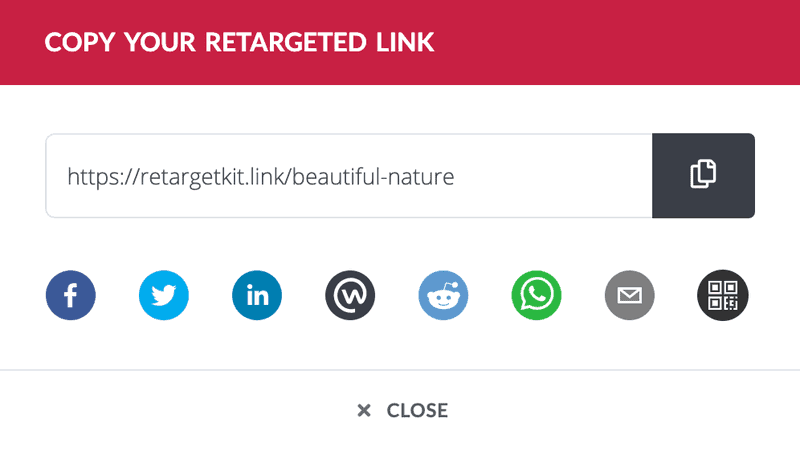 Step 5: Analytics
RetargetKit analytics helps you to track every single link. Starting from the number of links you have created, the number of clicks you received, conversion rate, countries visiting your link etc. Moreover, you can insert the amount you are spending on each ad and RetargetKit will tell you the revenue you got back from each ad. This will help you to calculate how much money you should spend after your social media ads.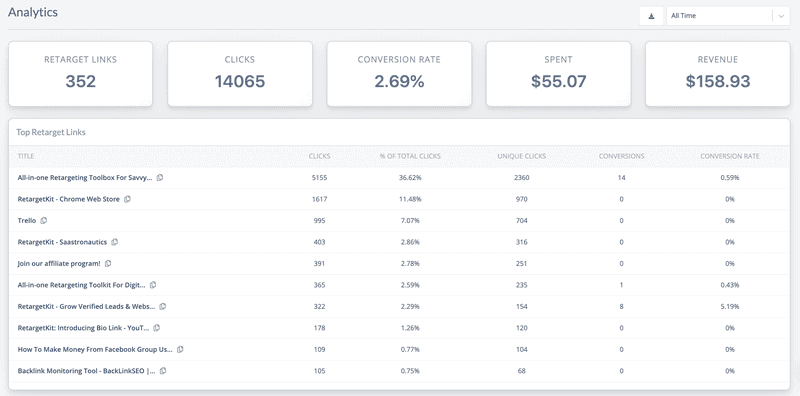 How Does Vanity URL Work?
To represent your brand you can customize the Vanity URL. These links are created in place of long and ugly URLs or unbranded generic ones, making them easier for viewers to remember and recognize the page you're linking back to.
Here is a link to a Best Over-Ear Headphones 2021 product review video from the Payette Forward YouTube channel.
Original link: https://youtu.be/B6s7J-lu0WI
You can turn it into:
Vanity URL: https://payetteforward.com/best-over-ear-headphones
The original link filled with random characters and it is unclear what is the link about. Moreover, it says, it is a YouTube link only.
But with a vanity URL, the link represents a brand, gives an idea of what it is about, and makes the link more clickable. This improves link trust and increases click-through rate (CTR). 
A Vanity URL gives you complete control over Domain Name, TLD and URL Slug.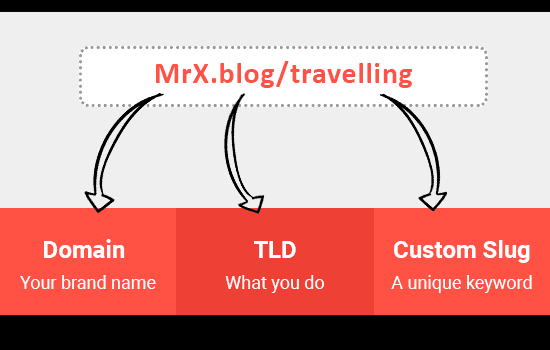 What More Can You Do
Short URL services provide some extra help to you. With some cool features, vanity URL becomes more efficient. These features are described below.
A/B Testing
A/B testing is a must-have feature for vanity URL. It helps you understand the performance of your vanity URL and also provides insights into what's working with visitors. When a visitor clicks on an ad, they are directed to a landing page that either shows one or two links in the text content area. The conversion rate for each link is tracked over time to let you know which link works better among multiple links for one web page. (Read A/B Testing In Affiliate Marketing: The Complete Guide for more details)
Deep Linking
Deep linking is a powerful way to increase engagement rates with consumers by providing them more personalized, relevant content. When launching an app or in push notifications and email marketing campaigns, deep links offer the opportunity for higher conversion rates as users are able to engage at their most interesting point of contact.
Link Automation
Link automation allows your links to pass through the integrations automatically. This is a great feature as you don't have to work extra time for link passing from one tool to another. Link automation does that job for you.
Meta Information
While link sharing, not every existing meta description is pleasing and attractive to the audience. You can not tell other website owners to change the meta description, right? But if you want your audience to click your links, it is better to provide a clickable meta description. And with the help of vanity URL services, you can do that. These services allow you to provide an attractive meta description for higher CTR purposes.
UTM Builder
Track where your visitors are coming from and what they clicked on to get there with the help of UTM parameters. The "utm" codes will provide you a deeper understanding of how to optimize your site for better results in Google Analytics or Facebook Insights.
UTM parameters are short piece of code that can be appended at the end of a URL, like so: http://www./example-website/?utm_source=twitter&… When first visiting this website without UTMs it may seem intuitive as an outside visitor would click through from Twitter; however, if we append them our analytics show us which page was most visited by those who came via Twitter – helps illuminate messages that work best!
RetargetKit has all these features built just for you
7 Reasons Why Vanity URL Is Better To Choose
If you are still wondering why you should a vanity URL over existing links then you should take a look at the reasons for using a vanity URL.
1. Builds More Trust
A random garbage URL creates chaos if the links trustworthy or spam. But vanity URL, however, is a solution to this issue because it generates more trust and increases click-through rates by giving you a better chance at converting visitors into clients.
2. Easy to Remember
Have you ever had to recommend a website and felt guilty when the person was too lazy/busy to Google it? This is where URL shortening services like RetargetKit or Bitly come in handy: they allow users with an easy-to-remember web address, making them more likely not to give up before reaching your site! Besides, shortened URLs look much nicer than long ones on blogs – there's less chance of readers getting lost and confused.
3. Easy to Use
The target of URL shorteners is to provide a better experience to the users making the dashboard much sorted and easier. Each vanity URL creator has made their UI better day by day keeping their clients' demands in mind. But everyone has their personal choice.
Choose RetargetKit to try yourself as it provides a betters service.
Easy words instead of random numbers make sharing the link easy. You can easily remember and share verbally, plus it's more engaging to others because they're not just looking at a number or an unintelligible word
Because of easy-to-remember words instead of random numbers, you'll be able to engage with your friends on social media by telling them about what this app is all about in plain English rather than trying to use some cryptic code that most people won't understand.
5. Enables Offline Sharing
It's easy to find our website online – and you certainly don't have to be on the internet in order for other people to hear about it. There are many different ways that you can place your vanity URL onto materials that will promote your business offline, such as promotional items or even a billboard. You can even use QR code offered by the shortening services, which are often found printed as two squares of black and white pixels that you scan with your phone's camera in order to visit specific sites or be directed elsewhere for information.
6. Track Links Easily
To make a web advertising campaign successful, the most important thing is knowing what your audience wants. Knowing where traffic originates from, can help you better understand how well an ad works and create more effective advertisements tailored to each specific demographic. Custom URLs allow website owners to easily track which ads are performing best by following up on customers who have visited their site through it. Or even just seeing if there has been any increase in new signups after publishing that article about the deal of the day products!
7. Word of Mouth
Brand awareness is paramount to success, which is why you want your customers to be able to share with others through as many channels and platforms available. By giving them easy vanity URL for various social media sites they frequent, it will boost brand recognition by making it easier than ever before!
A good word of mouth strategy is important for any company, no matter how big or small. Vanity URL is a great way to make the process easier and more engaging by ensuring that your customers can find you through social media channels like Facebook, Twitter & Instagram.
Final Words
The vanity URL is a way to create short and memorable URLs. Customizing your own branded vanity URL with your company name, for example, will help you stand out from the crowd when someone types it into their browser or share it on social media.
Since they are so easy to remember people can easily be directed back to your site. Hope this post covered all the concepts of vanity URL.
Try creating your first vanity URL with RetargetKit right now.