In recent years deep linking has become one of the hottest topics. Many startups have geared up by using and developing innovative deep links. Their target is to attain 'the deep linking standard'. And in line with it, they are doing their best to improve and discover deep linking. Before diving in, you must know what is deep linking.
Deep linking is a powerful technology, having a significant association with digital marketing. With the help of deep links, the users directly reach an app content, bypassing a website or a store.
Your task becomes easier when you directly land to the page or apps by clicking URL once. You can be benefited in many ways by using deep linking for any App like company App, social network App, including YouTube App.
What Is Deep Linking?
You have already got a brief idea about what is deep linking. It is nothing but the use of a hyperlink. The deep link makes a connection with any particular links of indexed web content that you can search easily on a website. For example, the URL of the Facebook app is fb://, but a direct landing on Wikipedia's profile in the Facebook app is possible with the link fb://profile/33138223345.
So the functions of deep links are to specify a custom URL team or an intent URL that allows you to open the previously installed app directly. The deep-linking concept is not a new one. It was 2006 when people got acquainted with it for the first time.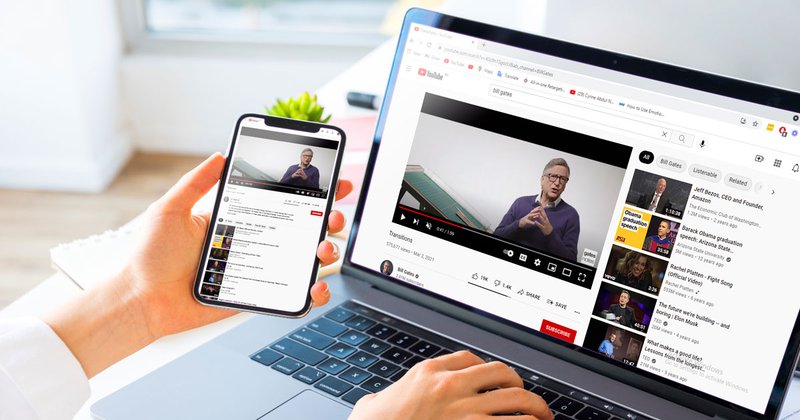 Differences Between Universal Links And Deep links
People often get confused with the term "Deep-link" with another term "Universal links". But some differences are there. If you know what is deep linking and what is a universal link, the differences will become crystal clear to you. Noticeable differences are:
Universal links are more performing than deep links.
Universal links don't redirect their users to any particular app content, but deep links do so.
Moreover, universal links use URLs but deep links use a URI scheme
Universal links contain a bunch of web pages, but deep links deal with specific pages or content
Universal Links can be broken and disabled, hence they are less secured than deep links.
To get the best out of universal links, app installation and download on the device are a must. In the case of a deep link, you can benefit from it without installing the app. Just redirect your users through any one of the browsers like Google, Firefox, etc.
Universal link is the way by which Apple launches apps on their system. They aimed at adapting deep linking to their device. They applied such links since the iOS 9 Version as a replacement for normal deep links.
Direct or deep linking to files needs to be downloaded and hosted by a third party or non-participating party. It has given birth to some controversies regarding copyright issues. No such problems are associated with universal links.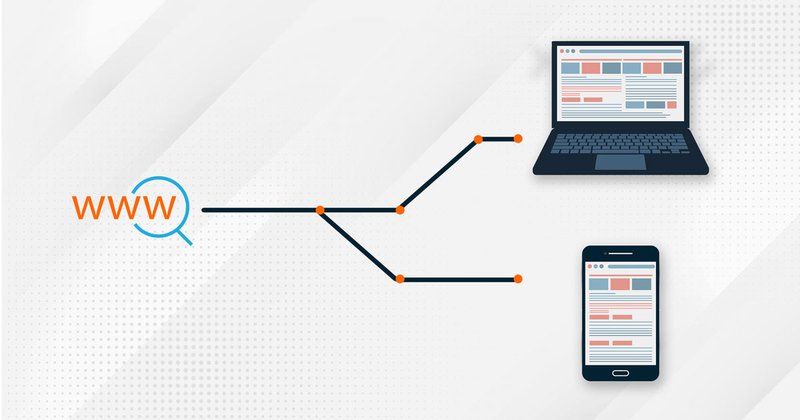 Importance of Deep Linking
In digital marketing, deep links play a key role. There are some findings from in-depth research about what is deep linking. It is a link providing an app with a new space and giving the users a unique experience. In addition, deep links help marketing get empowered, and data collectors receive an overall view of clicks.
Most importantly, it enhances the possibilities of monetization. It gives a good vibe to a marketing plan, whether on mobile platforms or desktops. It has brought about a revolutionary change in users' browsing experience.
Deep links' future depends on the way of its use by the users. There will be so many new ways to discover innovative deep links for existing apps. It will give you an experience of new apps with the help of services and content that can be deep linkable. It will result in more intelligence transfer across the links.
But mind that it won't change the world overnight. It depends on the method of its use to make a connection among the webs. Take every action keeping in mind what is deep linking and how it works.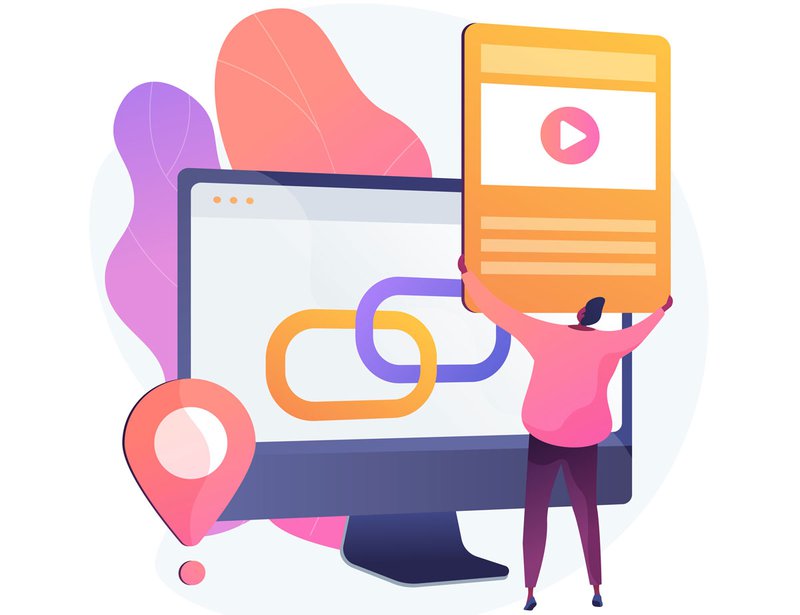 Influences of YouTube App on Digital Marketing Plan
YouTube, a Google-owned American social media platform, influences the digital market to a great extent. One billion monthly users visit YouTube, the second most visited website. Visitors spend one billion hours per day viewing videos. In 2020, the number of active users was approximately 1.78 billion.
The YouTube format has undergone some significant changes in current years. Nowadays, vlogging on YouTube has attained much popularity. Besides, you can Easily do live streams and preserve your video content by making a playlist. Almost everyone wishes to be a vlogger. In the prevailing COVID pandemic, the role of YouTube in conveying messages and marketing campaigns is outstanding.
The data relating to users contribute to your new marketing campaigns. They are as follows:
Operating system used
Language
Origin
Device used
Clicks/Visits
Browser
Any QR Code scanned
You should know the event, triggering conversion most. Then you will concentrate on another element to have an increase in your product sale. Look for the best way to redirect the users to your YouTube videos. It has opened a door of earning before you.
You can gain more views with higher monetization by –
Gaining visibility
Improving Lead Generation or conversions
Attaining trustworthiness in other fields.
Being popular on YouTube
Collecting traffic on other social networks
Pushing people to visit your website through interaction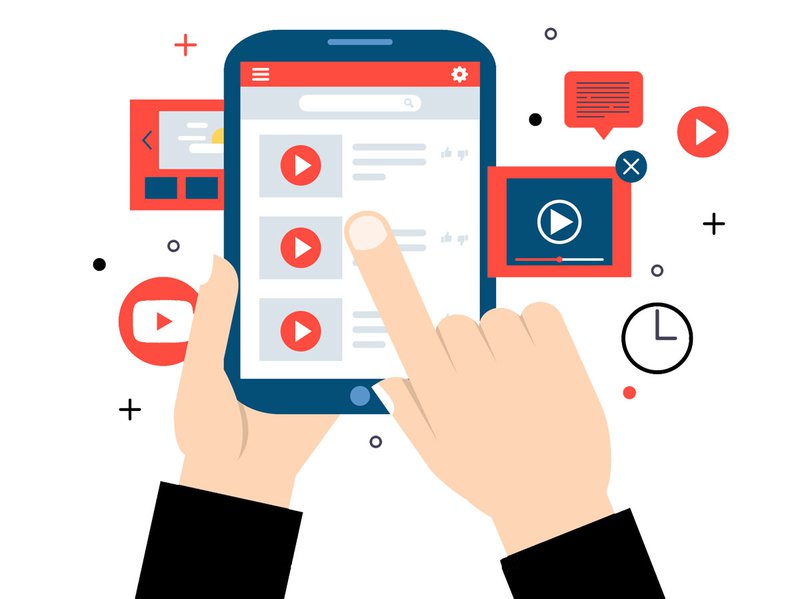 What To Do If YouTube App Is Not Installed?
If the YouTube app is not installed, you should create an option for alternative landing pages. Thus you will be a gainer of YouTube video content without the app installation. Follow any one of the steps as stated below:
Redirecting viewers to the YouTube video through any browser like Google, Firefox, etc. This option is not available in Mobile App.
Or redirect the users to the App Store / Play Store. It will allow them to download the YouTube App
Or redirect valued viewers to your chosen custom page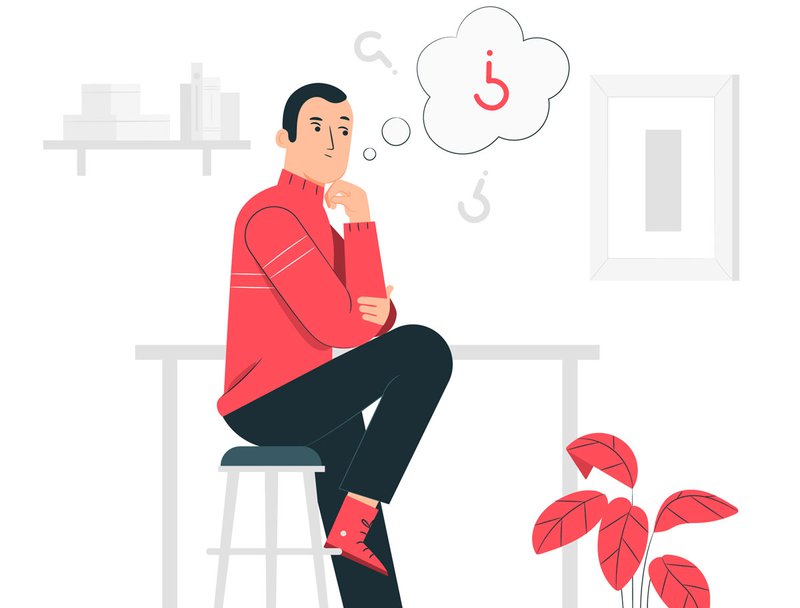 Importance of Creating Deep Link for YouTube App
The influencers, any famous brand, agency, or individual marketer can easily derive the benefits to a great extent out of YouTube. They just need to have a clear idea about what is deep linking. The best way to ensure the online wandering of users within your video content is to create a deep link to YouTube.
Using a Deep Link to YouTube, you can easily share your YouTube videos to any device. You just need a simple click to redirect your users to the YouTube App. And without any other click, interaction with the videos becomes possible.
Your deep links get personalized. And the brand within the domain plays a pivotal role in doing so. Not only that, it makes your viewers understand that the content belongs to you. You can select the Open Graph settings to save your Deep Link to YouTube.
So if you aim at having a robust growth of your digital marketing, you have to create a deep link to YouTube. Because it :
Provides us with tools to manage traffic
Advances social media marketing campaigns
Gives a better user experience
Increases customer engagement question
Requires a single click to move your viewers to your app
Helps easily track all the events
Enabling visitors to navigate with more efficiency quickness
So to bring success to your doorstep, you must know how to create a deep link to YouTube.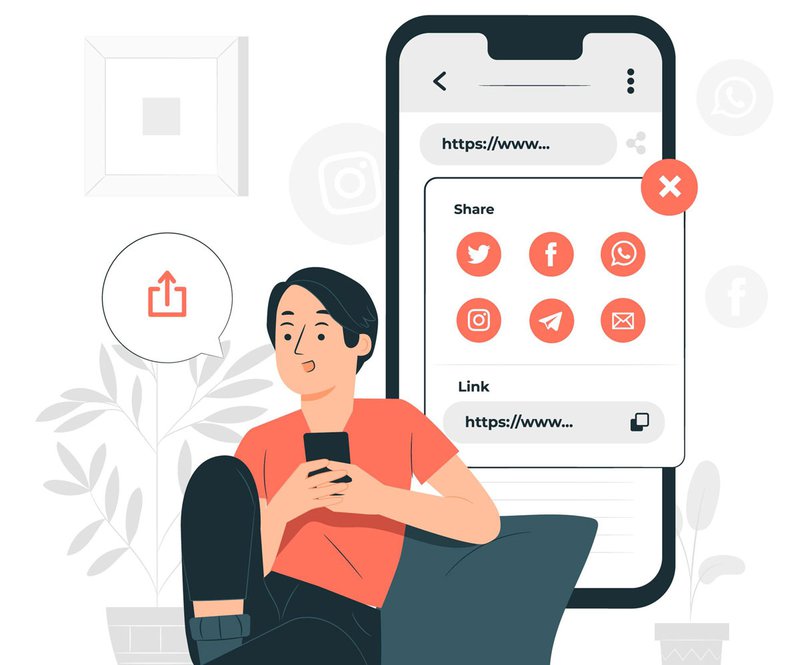 How to Create Deep Link for YouTube App with RetargetKit- a Complete Guideline
So many retargeting software is available to display different company ads. The target groups are the previous visitors to that particular website. Cookie-based retargeting tools are included on the website of a company.
With the help of pixels, track the website visitors. The cookies don't make any variation in users' experience or the performance of that site.
RetargetKit is one of the most used retargeting software. It has attained worldwide acceptance. The software includes versatile services like lead generation, bio link, curated page, branded shortener, call-to-action, custom widgets, and so on. This digital marketing tool can be treated as a one-stop solution. It is excellent assistance in creating a deep link for the YouTube app.
Using RetargetKit takes just a few clicks to create your Deep Link to YouTube. You are to follow some steps as stated below:
Step 1: Creating Free Account
Click on the RetargetKit account and have your own account free of cost. It will redirect you to the intended page. Start creating your campaign.
Step 2: Creating Shortener Campaign
You are to choose a campaign name to fill up the company name option. Then choose the campaign type from the options. Select the option 'shortener'. Press 'next' to advance. Now you come across two questions that are optional. You may answer them or skip them.
The questions are:
Do you need a custom Domain?
Ans: If yes, write down the Domain Name and click Next to proceed. It is up to you to use your own domain name or rgkit.co.
Do you need retargeting pixels?
Ans: If yes, add a Retargeting Pixel Name. It will help you to have track of your retargeting pixels.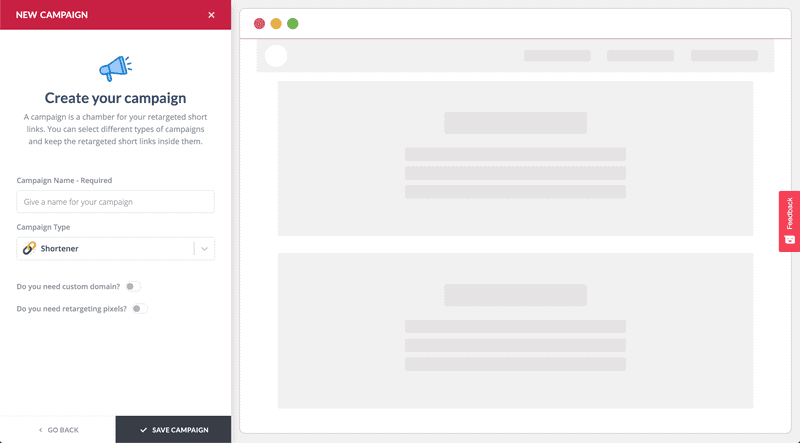 Step 3: Creating Short Link
In this stage, you are to generate a new link by clicking 'New Retarget Link'. Select a video to be shared on your YouTube channel. Copy the URL, whatever the length of it is. RetargetKit is here to shorten the URL. You are allowed to use your own domain if you want. Select 'YouTube' from the drop down for enabling deep link. Now you are all set to get a short link. Save it for further use.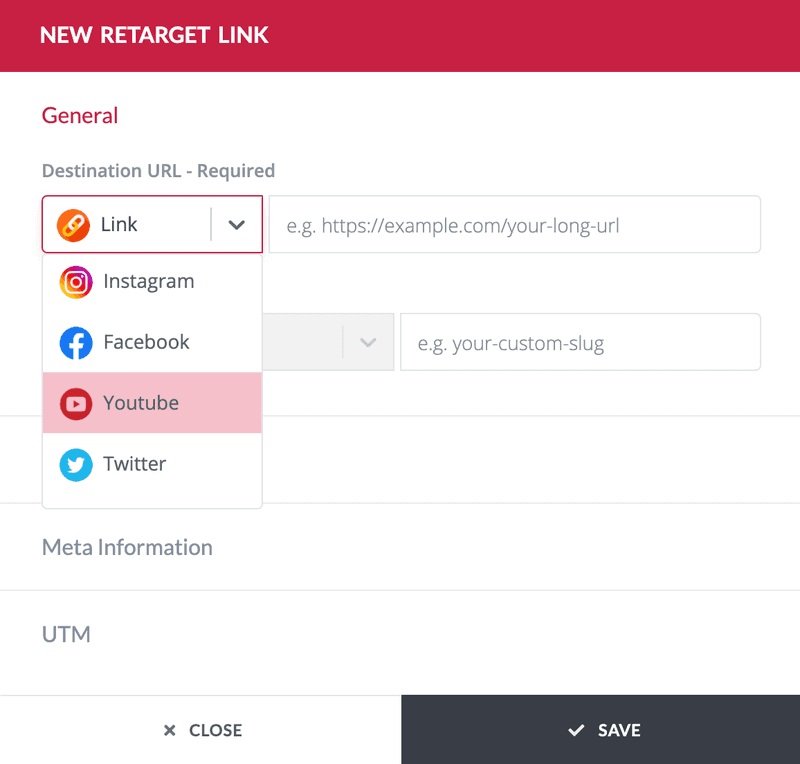 Step 4: Sharing the Link
Determine your target audiences. They may be digital marketers, email marketers, YouTube marketers, Instagram marketers, or Lead collectors. Try to reach them by sharing the newly generated link through any social media platforms like Facebook or blog posts, emails etc.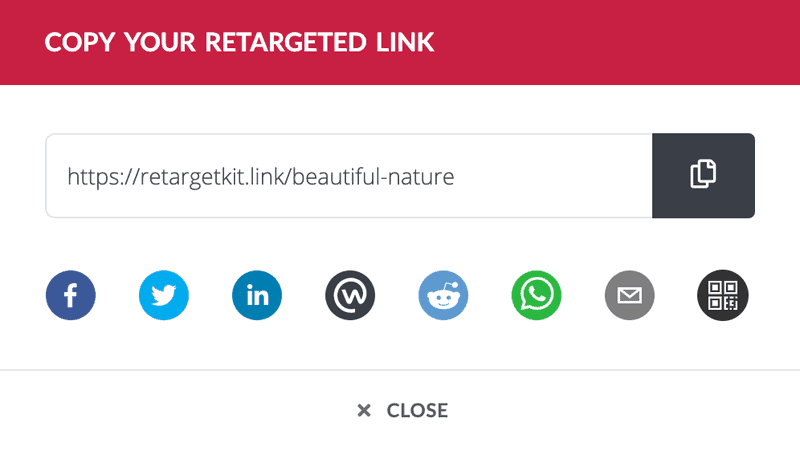 Step 5: Analytics
You are able to check the URL-related analytics with the help of a new deep link. As an outcome of RetargetKit analytics, You will have a more detailed view of necessary information related to the viewers of your account.
It won't be tiresome for you to track all the links, including the total number of your created links, received clicks, rate of conversion, countries' names from which people are visiting your link, etc. There will be a record of your total expenditure and received revenue against it. The calculation will be done by RetargetKit. It determines your next step regarding the expense for future ads.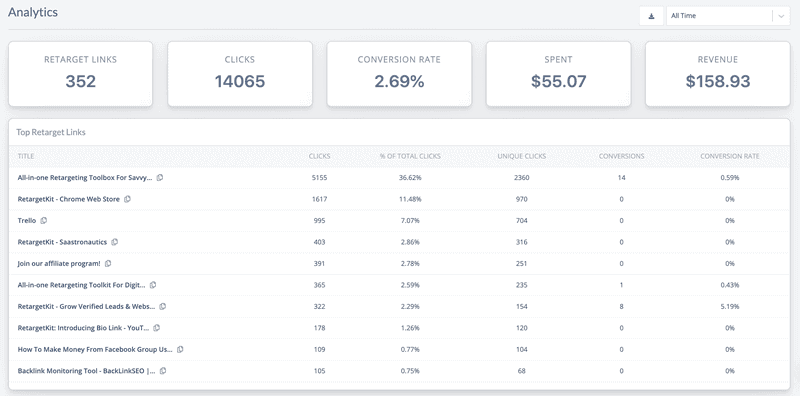 Why use RetargetKit to Create a Deep Link for YouTube?
Trustworthiness is very important in Digital Marketing. Consumers' feelings of security must be ensured. A branded link can only do so. It helps increase the CTR or Click Through Rate of your links by more than 34%. Initiating careful steps, you can be a gainer. Using RetargetKit, you can easily prevent your links from being banned or penalized. Your links will remain safe on social networks during the campaigns of your advertising. Benefits of RetargetKit at a glance:
Enhancing the visibility of your brand
Provides branded and customized deep links
Helps gain more link trust
Improves the appearance of the link
Undoubtedly promotes your brand
Tracking click rates
Help get rid of other company brand name
Helps get relief from long numbering slugs
So offer your audience valuable content. It will support you to gain visibility and credibility. In the meantime, you will be able to analyze which data is really important in browsing. You can get the desired number of followers for interacting with you on your YouTube video.
Just copy and paste your Tracking Link. Gradually, you will have the viewers as your subscribers. Simultaneously you will be enriched with so many likes, comments, and shares. It results in a positive growth of your content.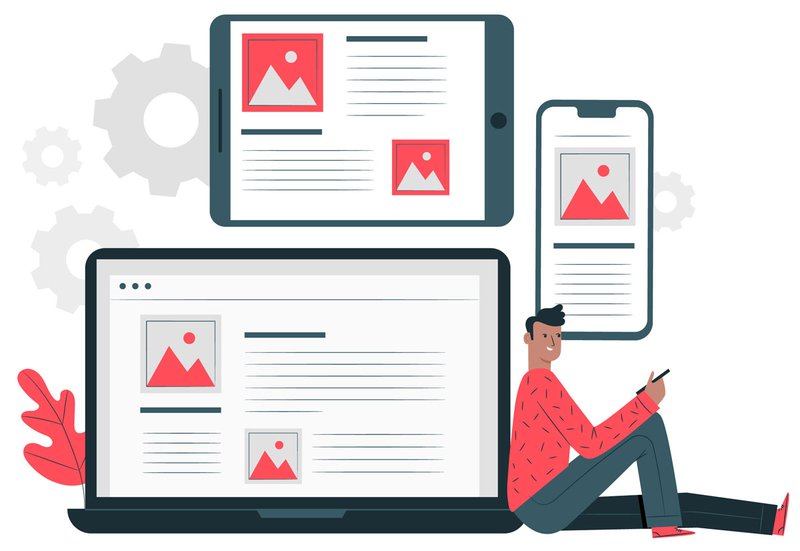 Final Words
The number of YouTube users is on the rise, especially within the last two years. By creating deep links for YouTube apps and branding them, you can upgrade your visibility and link trust. You have already learned what is deep linking and how to create a deep link for the YouTube app.
Now it is time to avail yourself of the offered service of RetargetKit and opt for easy implementation of your marketing plan. You can have access to Try Free for 7 Days. Your advertisements or campaigns by using the retargeting software must give you a fantastic experience.
RetargetKit is there to retarget the viewers who have visited one of your shared links at least once. The ultimate result is incredible. And it is obviously an outcome of your tireless effort to give the audience and subscribers a memorable experience.
Eager to retarget the one-time viewers? Get started with RetargetKit now.