Best URL shortener works great for marketing only if you choose the right tool. We've compiled a list of 10 best URL shortener and have broken them down into their own categories. You'll find all about how to create customized branded short links, how they work, what they can be used for, and which one is the best fit for your needs!
What is a URL Shortener?
A URL shortener allows you to take a long link and create a new, shorter one that takes people to the same location. These days most links allow you to track your link metrics but all in all it couldn't be easier than using a URL-shortening service.
A URL shortener is a tool that makes it easy to share long, unwieldy links. For example, you can take something like "http://www.example.com/blog/why-should-you-focus-more-on-digital-marketing" and turn it into "https://rgkit.co/digitalmarketing". Using URL shortener service on your computer or phone apps like Google drive where this link will be rendered as an easily shared tiny URL for people who don't have time to copy-paste big complex URLs from one place to another.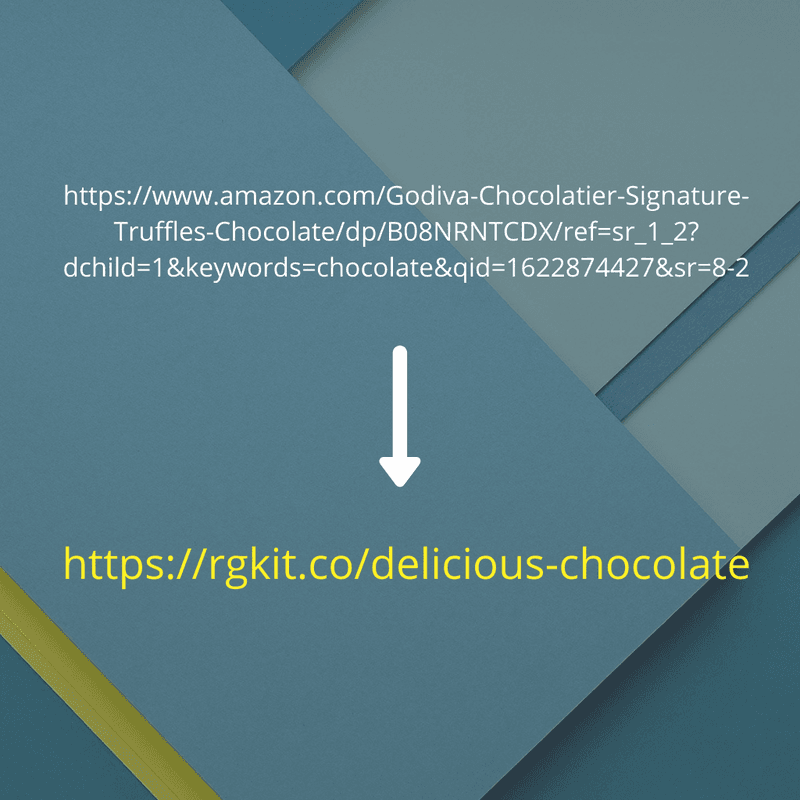 A custom URL shortener lets you brand your links
Social media is a great way to increase your brand awareness to use. The best URL shortener offers one more opportunity for customers and followers to share links by providing a tiled experience on the go.
On the other hand, URL shorteners that enable you to customize your unique link offer the opportunity to mention your brand. As an example, RetargetKit link shortener allows you to create a vanity short-link with just a few clicks.
Even if you're using a free web hosting service, or an ISP that's less than exciting, a custom URL shortener can keep your brand front and center.
10 Best URL Shortener
There are many different types of URL shorteners, each with its own specific features which make them better suited to certain customers. This article will review the ten best URL shortener and their feature list along with the price.
Perfect for: Enterprise-level businesses.
Bitly is a business-grade URL shortener with comprehensive dashboard features and campaign tracking tools. Bitly provides everything you need to shorten URLs, from an online interface for occasional sharing or just monitoring your account information; the ability to track over 20 real-time data points including the location of visitors, organic shares, more!
Features
Create, customize and manage short links with Bitly link management.
Also create your own custom domain and replace the bit.ly URL with its name so that all of your links are unique to you and trustworthy.
Create thousands of short, branded SMS messages for customer support updates, order statuses, service delays or changes, appointment reminders, fundraising, and location-based promotions with Bitly API.
Analyze your links to get a clear view of how many clicks you are getting and how many of your visitors converted into your clients.
Bitly QR code offers a powerful platform for tracking user behavior and can be placed just about anywhere. Like —print media, billboards, storefronts, stickers, t-shirts and connect your offline users to online.
Price
Bitly's price has been going downwards to reach out to more audiences. They offer four different plans starting from Free to Enterprise level.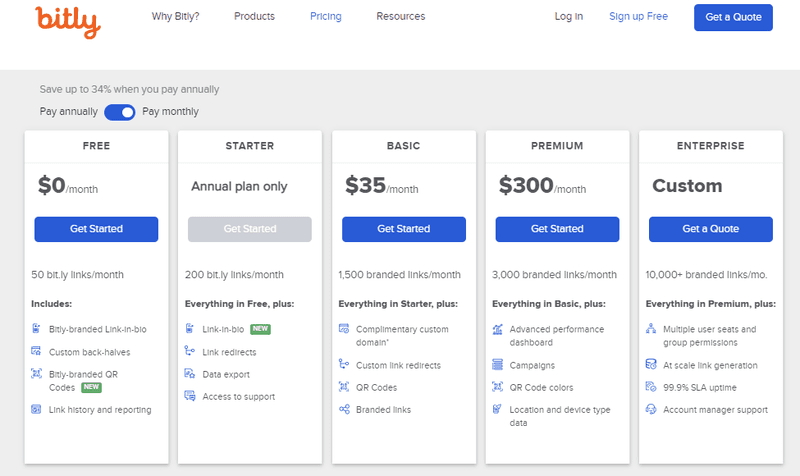 Perfect for: Affiliate marketers and marketing agencies.
RetargetKit is a lead capturing and link management all-in-one marketing toolkit. It enhances brand awareness, controls social media marketing ads, and increases sales by retargeting your one-time visitors. In fact, you can collect social verified leads 10x faster by saving time, money, and effort.
Features
You can grow business online, collect hot leads for product promotion, product sale, email list growth etc with the RetargetKit Lead Generation feature.. (Learn How RetargetKit Helps Digital Marketer To Get Passive Income using Lead Generation).
RetargetKit Call-To-Action allows you to collect emails in exchange for pdf files, offers, sales, and much more.
You can collect leads and drive audiences from Instagram to your other sites with Bio-Link. (Read How To Sell On Instagram Instantly With 3 Steps).
Moreover, you can track your audience and get back to them for product remarketing purposes by retargeting pixel setup.
Custom domain addition to the links creates brand awareness and increases your clients' trust over you.
Monitor thousands of links to keep track of the maximum number of clicks, unique clicks, conversion rate (visitor-to-client conversion) and you can know which link is profitable to you.
Additionally, RetargetKit link automation passes leads to the integrations automatically whenever you create a new link under that campaign.
With bulk link import option, you to migrate all of the links of a different shortener tool to RetargetKit with just one click.
Deep-link increases your audience engagement by opening the link to a specific mobile app.
Conducting A/B testing helps you to compare two versions of any content or design or text of your website ensuring the conversion rates are maximized.
Price
As the best URL shortener, the price of the RetargetKit service is very low. You can easily afford it and enjoy using the best link shortener in minutes. Thus RetargetKit offers four different plans.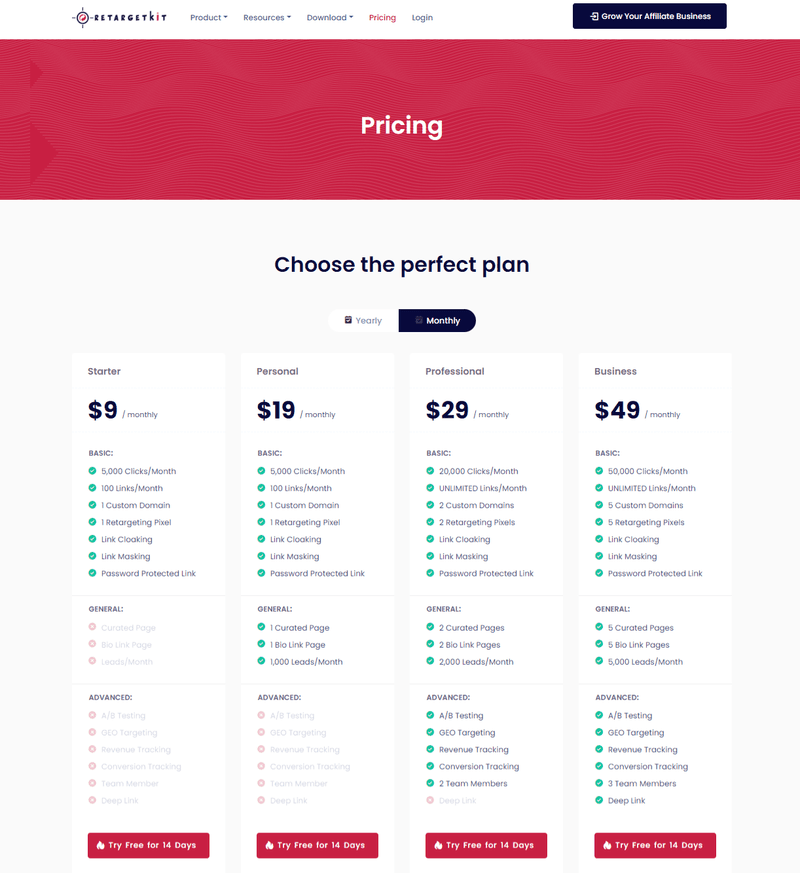 Perfect for: Small businesses focused on branding.
Rebrandly is a URL shortener that will help you to set up your custom domain or use the one you already have with its helpful features. It's more than just an easy way to shorten URLs- it gives you complete control over how they work for your business!
Feature
Manage branded links generate thousands of short links quickly.
Traffic routing allows you to send traffic to specific landing pages or direct them to your mobile apps depending on their location, device, browsing language, and other factors.
Fire retargeting pixels directly from your branded links, add users to your retargeting lists in Facebook, AdWords, Twitter, and more.
You can build, schedule, and send custom reports based on the traffic your branded links receive.
Connect and manage several custom domain names that reflect your brand; besides managing 404 traffic and SSL directly from one dashboard.
Price
Rebrandly offers five plans; starting from Free plan to Custom plan.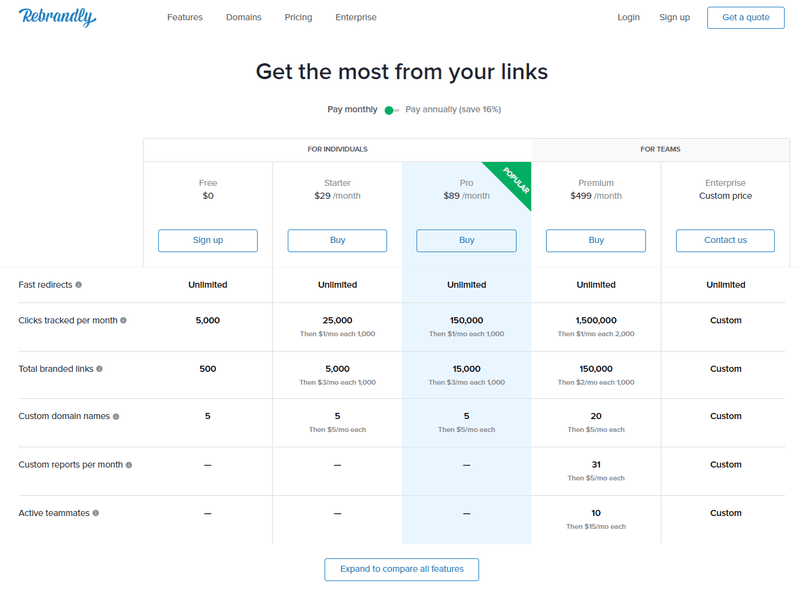 Perfect for: Large businesses.
Rebrandly is an extremely popular URL shortener, but for those looking to take their marketing efforts up a notch or two, there's ClickMeter. They offer conversion tracking and other features that are perfect for enterprise-level companies who want more than just the basics from their service provider.
ClickMeter is a good website. They have conversion tracking. This means that you can see how many people clicked on your link and then came to your website.
Features
ClickMeter offers a short URL management solution and the ability to generate thousands of shortcodes quickly for marketing efforts.
You can use retargeting pixels when you post links to your company or site adding people to your retargeting lists from social media platforms.
With analytics, you can keep an eye over short links for any movement in click rates so that you can make adjustments accordingly.
With first-level domain and sub-domains, make a serious branding statement that will undoubtedly attract more customers.
Price
Though ClickMeter's price is up to an enterprise-level, they offer four different plans starting from $29 to X-Large plan.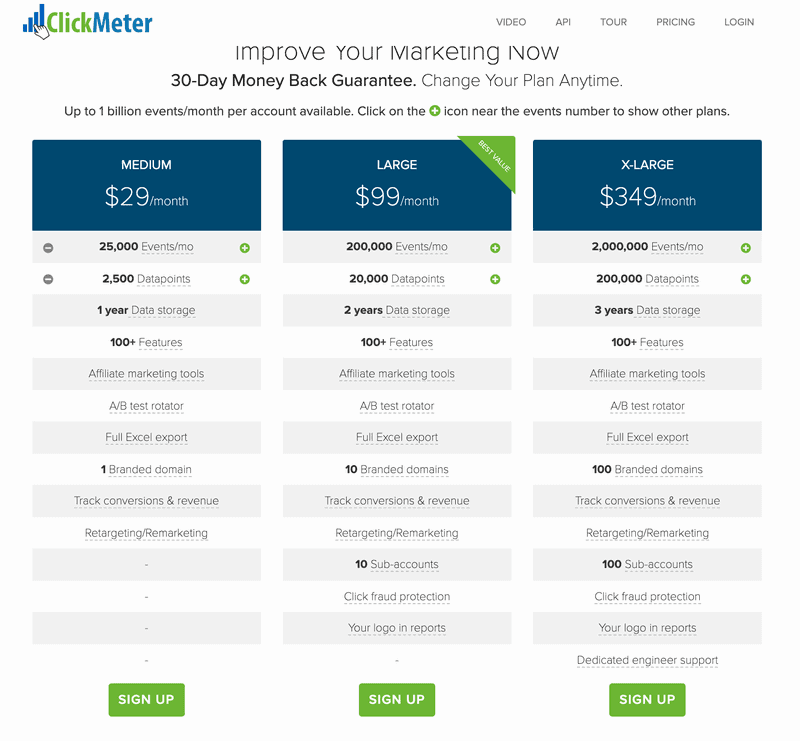 Perfect for: Hootsuite users, and anyone looking for a social media management tool.
The Ow.ly URL shortener is a popular tool that works with Hootsuite's social media management application to provide an easy solution for creating professional-sounding voice messages and lets you track your links' popularity in terms of referrals, clicks, and location! You can use Ow.ly for free with its Hootsuite-based plan to create ease around managing many different types of accounts on one dashboard or across various platforms like Twitter, Facebook Pages/Groups (etc)- all within the same app interface!!
Features
You can create content and share it across multiple social channels from one easy-to-use platform
You can craft new posts and schedule to multiple social networks at the same time using our publishing features.
Calculate your performance across all of your social networks and you can create custom reports to showcase the impact of your brand and bottom line.
Price
Ow.ly is free for Hootsuite users. And to get access to Ow.ly, you need to create Hootsuite account. Hootsuite offers five different plan including a Free plan.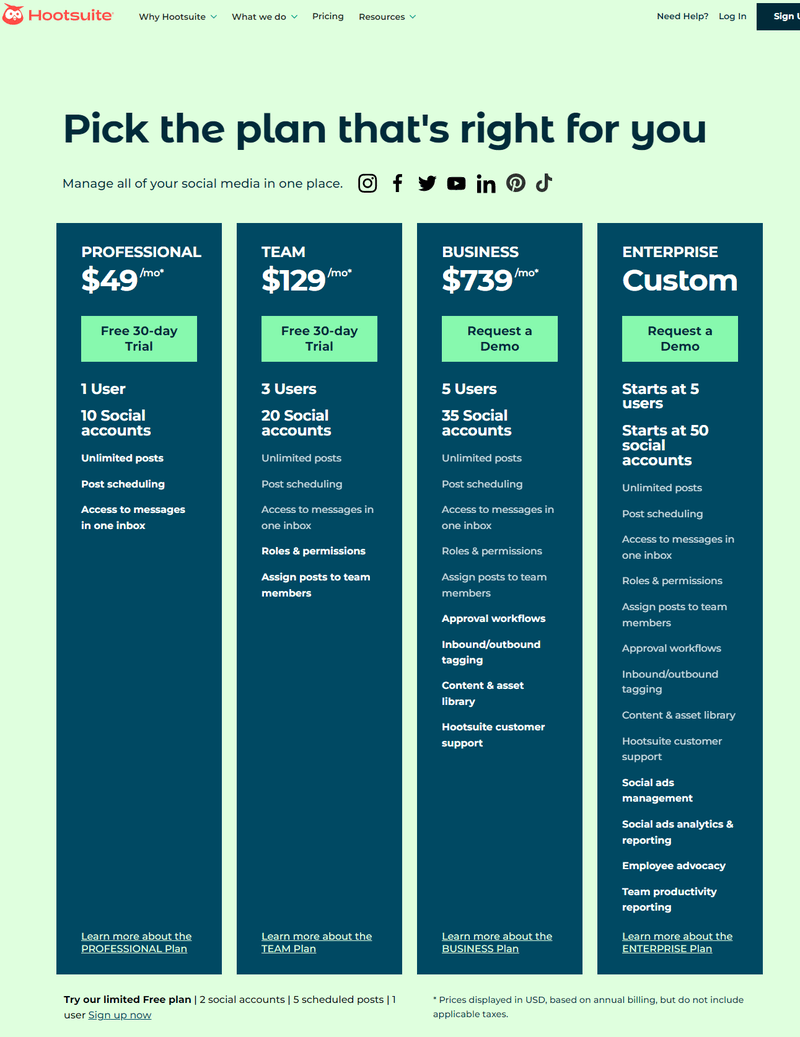 Perfect for: Anyone who is in need of a quick and easy-to-go URL shortener.
It's easy to see why TinyURL was one of the most popular link shorteners back in its day. It didn't have any pesky features, like social media accounts or dashboards for tracking who clicks on them! But now that we live in a world with iPhones and Facebook-verse? Not so much… What it does offer is simplicity – just type your URL into the box and click "shorten" – no creating an account needed! And since you're not using someone else's domain name to redirect traffic anywhere, there are even more options than usual when customizing what goes after "http://tinyurl.com/whatevernameyouwant."
Features
Full-scale link management allows you to create and manage thousands of links in one centralized place.
Manage main domain and 404 redirects all from the TinyURL dashboard.
Additionally, increase your click-through rates by your own brand with your own custom domain name to shorten your URLs.
Get a preview of how your links perform.
Price
TinyURL offers three different plans.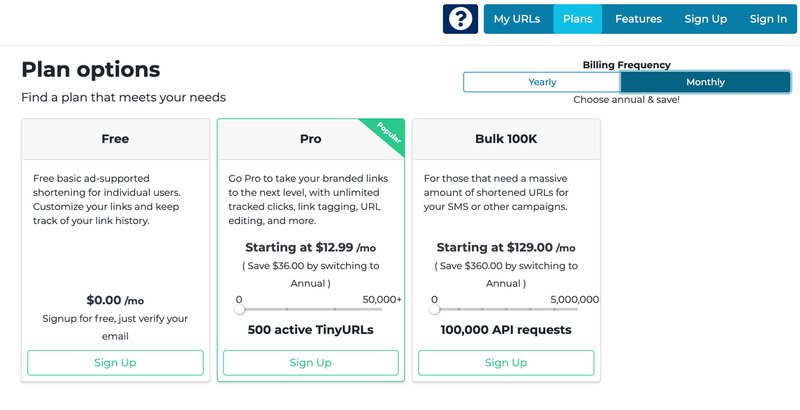 Perfect for: Affiliate marketers, bloggers, and influencers.
Clkim is a great solution for bloggers and marketers of all types. It has an amazing focus on monetization, making it perfect if you're trying to make money or need another revenue stream. But Clkim isn't just about generating profit- they offer many features that other services don't have! You can use them in addition to Rebrandly because they provide tons more options like interstitial ads!
Features
Choose & purchase a branded domain from within Clkim's dashboard or just add your existing domain for custom domain setup.
Elegantly monetize links with full-page interstitial ads that are completely controllable.
Clkim analytics provides users with actionable data that helps them improve their marketing effort to yield better engagement and results.
Price
Clkim offers three different plans.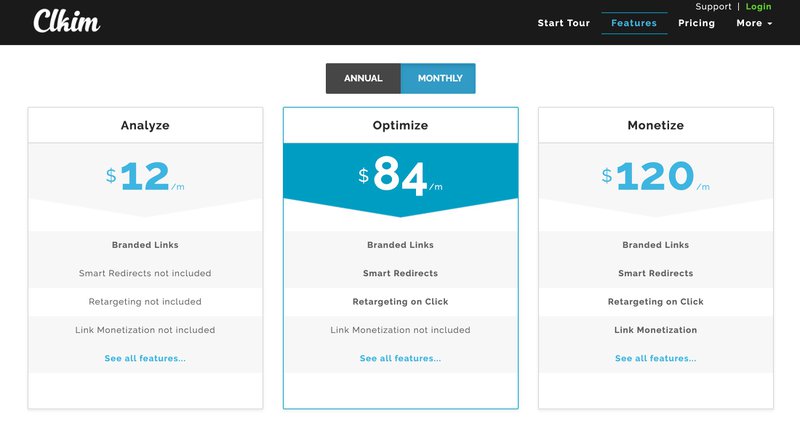 Perfect for: Shopify users
Zapier's URL Shortener is the best way to automatically create and save a shortened link every time you upload a new product on Shopify. You can also use it with other apps like Instagram, which means that your social media activity will be more organized than ever before!
Shortened URLs are the future of marketing. No longer do you need to type out long, complicated links every time there's an action associated with your business; just make one simple request through Zaps!
Features
You can create customized short links that your visitors will easily remember and also fit into Tweets, Facebook posts and much more.
Furthermore, it is quicker than any external shortener.
URL short link generator is perfect for hiding affiliate links.
Price
Free plan limited to 5 active single-step Zaps and 100 tasks/month; Starter from $19.99/month (billed annually) with 20 multi-step Zaps and 750 tasks/month.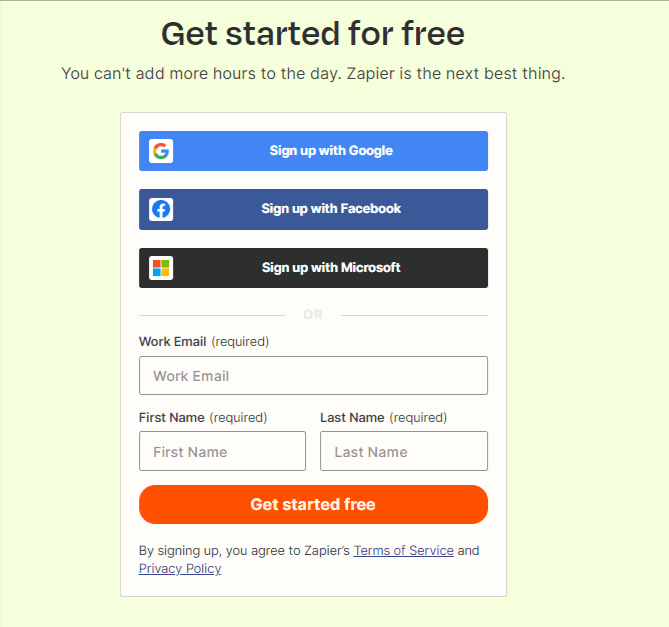 Perfect for: Affiliate marketers
The Sniply service is a godsend for social media managers and content creators. It not only provides you with the short URL and click-tracking but also allows you to insert CTAs over any link that gets shared on your profile. When someone follows one of these links from your Twitter account or Facebook page, they will see an option at the bottom of their screen prompting them to subscribe to updates about other articles as soon as it becomes available!
Features
Call to action for lead collection and traffic driving
Use the link management dashboard to track analytics for each custom URL you share
Carry out A/B tests to reveal the best strategies to reach your goals
Price
Sniply offers four different plans distributing clicks on a usage basis.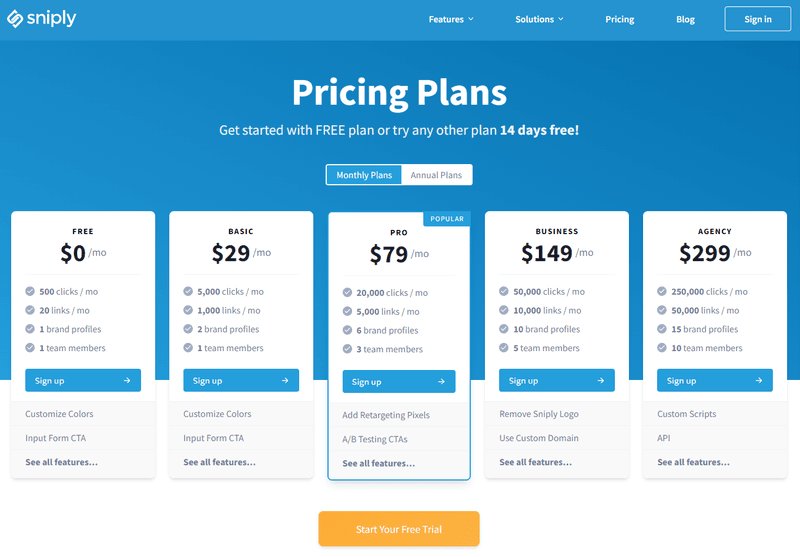 Perfect for: Instagram users, sellers, bloggers, and affiliates.
At number 10 we have Shorby. Shorby is a unique URL shortener that links to more than one thing, but with Instagram's "one link in your bio" rule. Moreover, it has been designed for creators of social media platforms so they can keep their latest content updated on Shorby by adding new URLs instead of changing them out in every post.
Features
Use custom branded links
Collect email addresses.
Fire retargeting pixels to retarget your audience.
Price
Shorby price starts from $15/month and offers total three plans.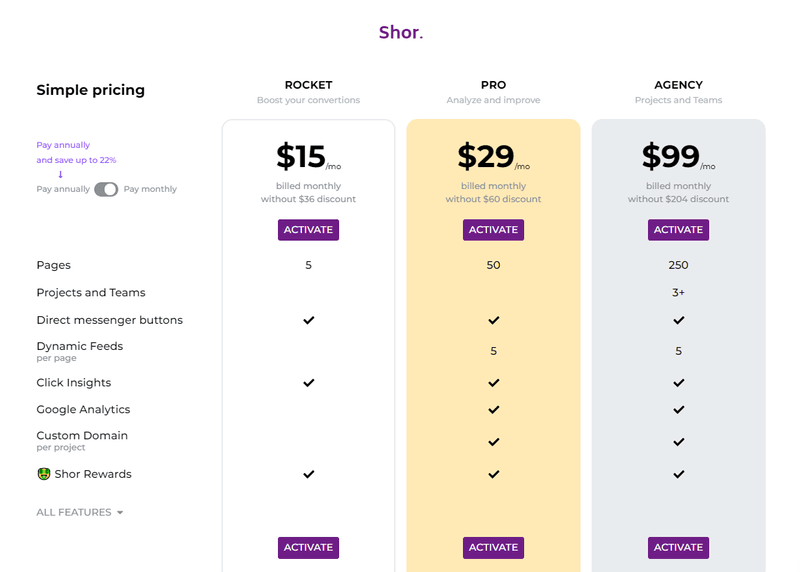 Why Should You Choose the Best URL Shortener?
Firstly, URL shortener makes easier to share, control and manage long URLs. This mainly helps truly when sharing on micro-blogging platforms or in mobile messaging applications. Next, as some link shortenings allow you to create custom branded URLs for your business purposes – this makes them a must have for any company looking at building links quickly and easily!
Rebrandly has found that branded short links receive up to 39% more clicks when compared to generic ones. And with RetargetKit, you can convert your visitors into clients 10X faster. These branded URLs also have another key benefit: they're less likely than unbranded ones to be perceived as spam by unsuspecting people who click on them. Because it is easy for spammers to use URL shorteners in order not only to obscure the link destination but make it appear like a legitimate site with which you are familiar. So to get the best result you should go for the best URL shortener which you find perfect for you.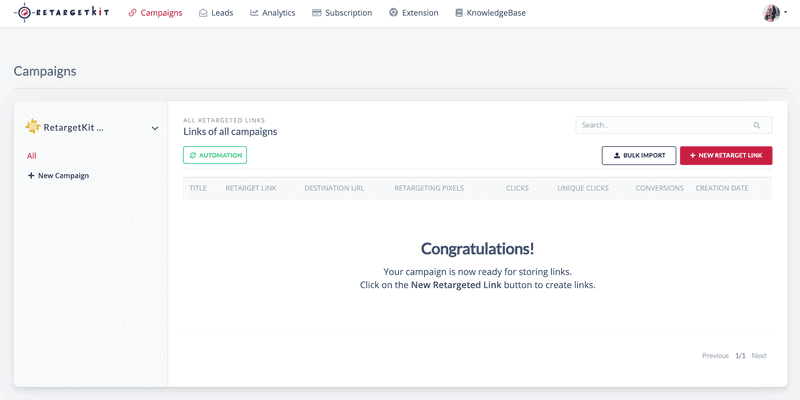 How to Create Customized Branded Short Links
Since you have all the basics covered, let's take a closer look at how to set up and create custom-branded short links using RetargetKit.
Step 1: Create Free Account
Create your RetargetKit account and sign up. Once you click on the sign-up button, you will be redirected to the campaign page.
Step 2: Create Your Shortener Campaign
You will be redirected to the campaign page. Name your campaign. Campaign type is selected 'shortener' by default. Once you click on the Save button your 'shortener' campaign is created.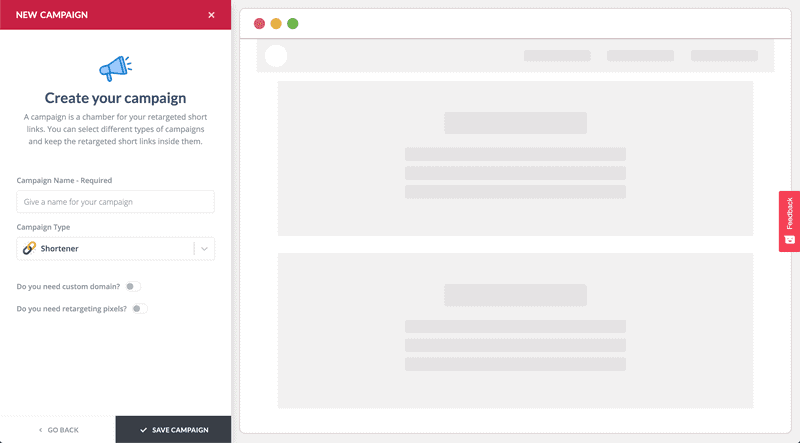 Step 3: Create Short Link
In the next step click the 'NEW RETARGET LINK' button to create the short link.

Step 4: Insert Link
Place the link you want to show your audience in the 'Destination URL' And provide the slug you want to show your audience. You can check out other advanced settings but those are optional. Now save the link.
Now you might see your newly generated short link. Finally, all you need to do is share the link on different platforms. You can even use it for email marketing, blog post, Facebook sharing, Twitter post, Instagram Bio etc.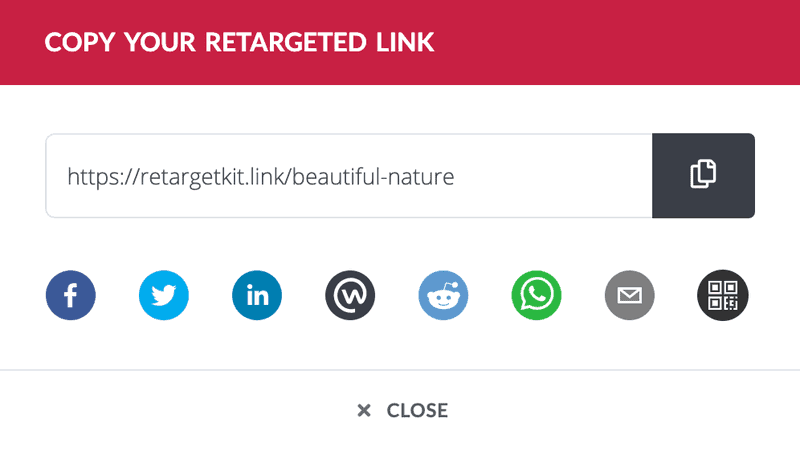 Step 6: Analyze
Now analyze the links and decide which links are working best for you from the analytics section. RetargetKit analytics will show accurate data to help you take action immediately. You can see how many unique clicks & conversion rates you received including the amount spent on ads & revenue coming from each link.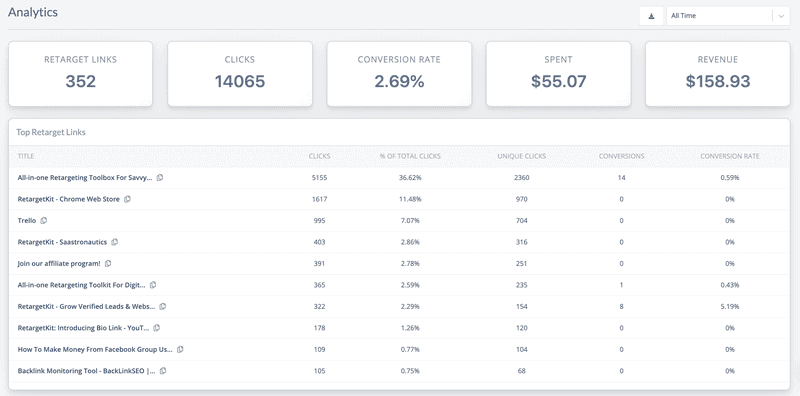 Benefits of Using Best URL Shortener
Here are some of the main benefits of using a URL or link shortener service.
Looks smart: Shorten your links for a cleaner, more trustworthy appearance. Some people like to use shortened URLs or link shorteners because they look cleaner and are easier to remember. For example: http://bit.ly/2n7L0s347fgN can be spanned into bit.ly/beautiful-bird – this is much shorter than the original URL and looks much nicer in comparison!
Performance tracker: If you want to make sure your marketing campaigns are successful, you can't afford not to know what links work for them. Link shorteners provide vital data about which of your posts are more engaging than others. This will help you understand how best to market yourself online.
Uses less characters: Indeed a link shortener is a clever tool for when you have limited characters to share your content on social media. They can help you shrink down long links, without using up precious space with any unnecessary words or phrases. For example, if I want to tweet about this article and include the URL in my message, that's 280 characters of text – which isn't much at all! This is where a Link Shortener comes into play: it will convert 20+ character URLs into shortened ones like bitly.com/3jw6y5A939B37EgW. I'll be able to keep tweeting freely because those extra 26 letters aren't taking away from what matters most- sharing information online!
Higher CTR: Shortened links are more trustworthy and as a consequence people click on them more often. By changing your long link to shorter ones, you could be improving the effectiveness of your social media strategy!
Easier to share: In order to make it easier for others who want to share your content, short links work best. Whether you add them in an email or personal message, shorter links are much simpler than long ones.
Final Words
Finally, URL shorteners are more than just a link shortening tool. They offer the ability to track link metrics an opportunity no savvy marketer can afford to pass up. Plus, branded URLs generate more trust and receive high click-through rates. Hence by using custom branded URL's for all of your marketing campaigns your users will know they're coming from someone reliable!
Rather than waiting further try RetargetKit today and test by yourself.